News
In most months we have news worthy of posting but we don't always get around to putting it up – as you can readily see by viewing the dates below!
If you know something about a NatSol toilet which seems worthy of a post on this page please let us know.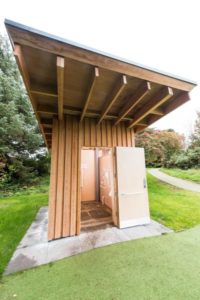 NatSol toilets are becoming popular on golf courses. The example shown here is at Mortonhall Golf Club, Edinburgh.
The toilet is our standard Full Access toilet but incorporated here in a building which was designed by DRD Architects Ltd.
The toilet is particularly popular with female golfers.
For more examples go to: Golf course toilets