Reviews and feedback
We continue to refine our designs in light of ongoing user feedback. Critical reviews helps us improve our product but unsolicited positive feedback is welcome too!
Independent accessibility assessment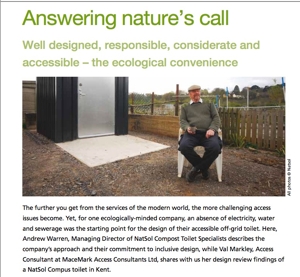 We employed MaceMark Access Consultants Ltd to assess our toilets and made a number of improvements based on this review. You can read their article in Access by Design here.
A selection of testimonials from our customers
"Can I just say thanks for all your help with the new toilet door (which suffered vandalism) and also just to say the toilet is the best thing we have ever had on the allotment. What's more it has always worked exactly as you said it would. It's really been great and your company most helpful. Thankyou." LD, Forest Farm Allotments, Cardiff
"We purchased two ZD toilets last year for a beach site in the West Highlands. They have proved extremely successful and have been well received by residents and visitors." SG, Road to the Isles Facilities Group. 2021
"I would like to thank you for all your patience and help in getting us to this stage and we would definitely recommend your product to other potential purchasers.   ......the product......is so well designed and produced" PD, Anglian Close Allotment Association. 2021
"I have a NatSol Compact toilet in my little house (big shed) that my dad bought a few years ago. It's amazing and I really love it! I had a home made compost toilet for years before this and it was always a pain to change, impossible to clean, and kind of embarrassing when I had guests. This toilet is a perfect manageable size, easy to keep clean and I'm still excited for guests to use it! So thank you so much!" CA, private customer. 2021
"I have been impressed by you (all) at NatSol, you have been good to
deal with." RK, Ladywalk Bird Reserve 2020
"We remain very happy with our purchase and I never miss an opportunity to extol to others the virtues of investing in a composting toilet and especially of going the extra mile and getting something that is well designed, solidly constructed and will last." A, Bearwood Road Allotments 2020.
"The whole setup you have at NatSol is one I can recommend to anyone thinking of installing one of your loos. The documentation on your website is particularly useful with its detailed plans and requirements for both myself and our contractor. And your swift reply to my emails was an absolute bonus!"  IH,  St Mary's Church, West Stow, October 2019.
"In November 2013 we installed a Full Access composting toilet with a timber building.  We are so pleased with it, it's working really well." KG, Groby Allotment Society, August 2017.
"The client is very happy with toilet and, as usual, the installation went smoothly thanks to your thoughtful design." LT - Contractor
"Yes the toilet is still working fine. It has made a huge difference to people on our allotment, especially the ladies!! The structure itself it has withstood everything the weather has thrown at it and has remained in excellent condition. An excellent product which we would, and have, recommended to other groups."  BC - Healey Road Allotments. Installed Jan 2008.
"We've been really pleased with the results. My initial concerns were over smells and insect infestation - this has not happened. The cleaners are also okay with the toilets and they can get around them as quickly, if not quicker, than an ordinary toilet. So far I wouldn't change anything on the NatSol system. It's all looking very positive and a fairly simple system with very little that I can see going wrong in the future." JS - Richmond Park, London
"It was a pleasure to put the unit together, the instructions were great and easy to follow. The client is over the moon with the toilet and the disabled allotment area. He is planning a grand opening for the disabled allotment area." JR – Custom Made Cabins
 "Our composting toilet is absolutely fantastic and now doubles up as my garden shed! The installation was well co-ordinated and professional and the toilet was ready to use immediately. Thanks for making our dreams a reality." SR – smallholding, Llandinam
 "I have been extremely impressed with NatSol both in my dealings with you over the telephone and also in the quality of the materials and instructions provided - they are amongst the best I have used. I would not hesitate to recommend both you and your products." ME – Contractor for Gaia Trust Wildlife Conservation Site
 "The loo is my personal pride and joy which I show off to the various visitors from other projects/organisations. It is also the product exactly as you described and marketed it as opposed to alternative models, which had pumps, water, sinks etc etc which were being suggested at the time of my looking into the whole area of composting loos. The loo has been a huge hit with our staff, volunteers and so far one wheelchair user. I enjoyed the freezing winter we had this year which knocked out our three orthodox loos but left the Natsol unharmed, and therefore, very popular. It was then unmoved by the torrential rain we had recently but which up-ended a 20,000 litre water storage tank on site." PC - Moelyci Environmental Education Centre
 "I recently visited a community garden in Scotland where they had installed one of your composting toilets, I have to say the system really is very impressive. You will also be glad to know that the manager of the community garden spoke very highly of her experience of working with NatSol and the level of customer care demonstrated."  EMcG - Northern Ireland Development Co-ordinator, Federation of City Farms and Community Gardens, Belfast
"We have a Compus Compact waterless toilet installed in our eco retreat in North Wales.The building is sited on National Trust Land adjacent to the coast path and has no grid connections,(electric, water, sewage), the Compact is a perfect solution for us and our visitors who find it clean,easy to use and simple to manage. Thanks to NatSol for their wonderful ingenious system." PW