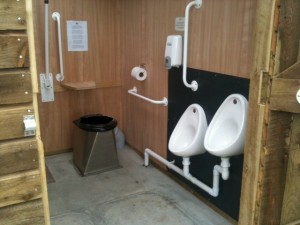 Award winning NatSol toilet in Assynt
The Loo at The Light is the composting toilet that was built in the walker's car park at Stoerhead Lighthouse, Assynt this summer. After the success of the toilet's first few weeks (it raised £805 to be donated to the community) it was decided to enter it in the Loo of the Year awards for 2013.
The Loo of the Year competition is in its 26th year and is run across the whole of the UK. It has hundreds of entries (over 1400 in 2013) every year in 60 different categories. All entries are individually inspected and given a grade based on various criteria. High standards are expected and competition is stiff.
After its inspection The Loo at the Light was given a 'Gold' grading which gave it instant entry into the National and UK wide competition for the 2 categories in which it was entered: Best Car Park Toilet and Best Eco Friendly Toilet.
The awards ceremony was on Friday 6th December and the Loo at the Light won 2 national awards:
Best Scottish Car Park Toilet and Best Scottish Eco Friendly toilet
Not bad for what might be the remotest loo on the UK mainland!