The waterless Zero Discharge toilet is suitable for busy public sites or where a discharge of urine to ground is not permitted.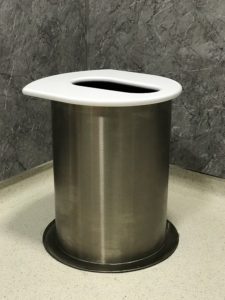 Unlike our other toilets this toilet is not urine separating and does not produce compost. Solids and liquids enter a storage tank and emptying is by slurry tanker from outside the building. Due to the lack of any flush water emptying is infrequent.
No 'soak' material is added to this toilet and maintenance requirements are very low.
Ventilation is achieved by the use of a passive duct and extraction cowl or by low power fan depending on the site. This results in a completely odour free cubicle under normal operating conditions.
The Zero Discharge toilet (ZD) now comes in two models: Types 1 & 2.
Type 1 Zero Discharge
Schematic: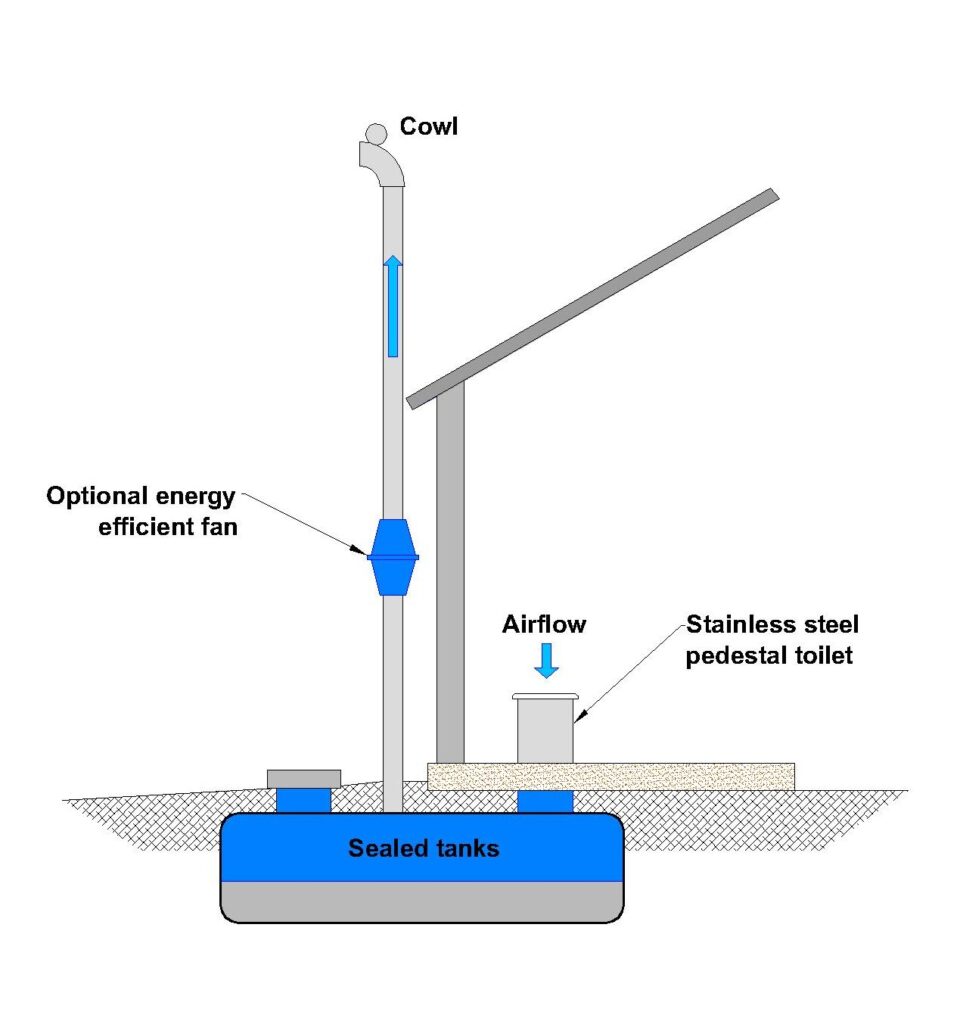 Supplied:
Below floor 3m3 storage tank
Stainless steel pedestal with Teflon coating to inner surface
Extraction cowl or fan unit and power supply as required
External airtight emptying hatch
Cubicle connection point for urinals and waste water from basins
Optional extras
Gel dispensers
Ceramic water-less urinal
Grab rails
Vent pipes
The Type 1 is typically installed in large facilities with a number of cubicles side by side. The building is likely to be architect designed. We would normally be involved as part of a design team to advise on how to relate the building to the tanks and ventilation system.
Emptying of the tanks takes place at the rear of the building through an emptying hatch.
For examples go to Amenity Sites.   You can download a Case Study.
View prices.

Type 2 'stand alone' ZDs
The Zero Discharge Type 2 (ZD2) is a stand alone toilet rather than one designed to fit into a larger architect designed facility.
It creates a fully accessible cubicle and can be supplied with the same range of NatSol buildings as the Full Access Composter (FAC) – or you can build your own. From the outside the toilet might therefore look almost identical to the FAC except that we supply a taller vent pipe for the ZD2.
There is no urine separation and therefore no urine soak-away. The pedestal has a different shape and is topped with a Corian seat. The inside surfaces are Teflon coated.
Emptying of the toilet is carried out by slurry tanker and access into the tank below the floor is by removal of the pedestal.
We supply a male urinal, a gel dispenser and grab rails.
For examples go to: ZD Type 2.
View prices.

PLEASE CALL US ON 01686 412653 OR USE THE EMAIL FORM ON THE CONTACT PAGE FOR MORE INFORMATION. THANKS!