News
In most months we have news worthy of posting but we don't always get around to putting it up – as you can readily see by viewing the dates below!
If you know something about a NatSol toilet which seems worthy of a post on this page please let us know.
The Mk 2 Compact Composting Toilet is now available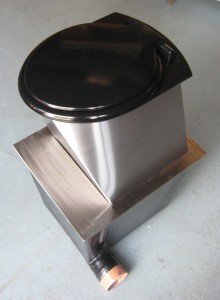 This compact urine separating compost toilet utilises our new stainless steel pedestal which avoids the plastic look usually associated with compost toilets. The MK2 Compact is even more compact than the Mk 1 and is much quicker to manufacture so it is cheaper.
The ideal toilet for low use situations: that garden studio or summerhouse which is occupied when the family comes home; remote work locations which are used intermittently.
Like the Mk 1 this toilet is ventilated and urine separating. Solids are removed for composting out of doors. We advise customers on construction of a simple, inexpensive and robust composter for this purpose
The picture shows both the pedestal and the below-floor base box prior to installation. Urine exits through the brown pipe and goes to a small soakaway. The pedestal is also available with a birch ply top and white seat.
This toilet can  be set up for wheelchair accessibility.
For more information please see the Compact product page