Small changes to our compost toilets give a fresh look
Designing the new stainless steel pedestal gave us the chance to revisit the floor design of our twin vault toilets as a new mould was required to accommodate the slimmer pedestal. The MK2 used standard galvanised steel inspection covers for the resting vault pedestal position and for compost removal hatches. These have worked very well but the fiddly locking screws are easily lost and, well, they look like inspection chamber covers!
GRC compost removal hatches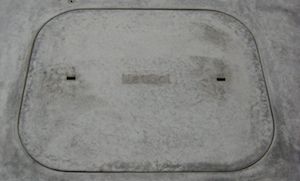 The new hatches are moulded from the same glass reinforced cement (GRC) as the compost chamber and building floor. They give a neater appearance and an easy to sweep and mop surface. Removal is with a special lifting key and being made of GRC they will not corrode. However if you have our previous model, there is no need to worry about spares as they are a standard item that we will continue to stock (although we have yet to see any significant problems with corrosion).
As with the floor they can be left in their natural state or sealed with stone-oil or floor-paint to suit the required decor and usage.
It has been great working with BCM GRC who manufacture our chambers. They have taken great care in getting all the details just right and are, we think, rightly proud of the result!