The Compact toilet for smaller spaces or lower use applications
The Compact was developed as a smaller and more economical solution for applications where the Full Access toilet is more than required. The perfect toilet for a summer house, garden studio or other fairly low use situation with familiar users.
The toilet is urine separating and can have either a fan driven or passive vent depending on circumstances. Wood shavings, or similar material, are added to the toilet after "number twos" and these solids are eventually emptied into an outdoor dedicated composting chamber. If you have ever had to empty a wet chemical toilet you will find this much nicer to deal with and you will not need a sewage disposal point.
Depending on the situation the Compact may not be easy to set up for disabled access in comparison to the Full Access Composter.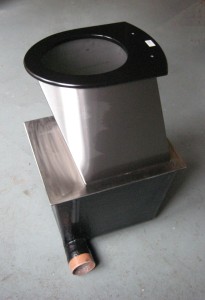 Supplied:
Below floor base box with removable trug and biodegradable liners
Stainless steel pedestal, seat and lid
Vent cowl (and fan unit and power supply if required)
Back inlet gully for urine soakaway
Some 110mm connections
Optional extras:
Gel dispensers
Ceramic waterless urinal
Grab rails
Soak bin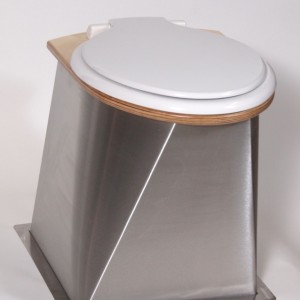 Not usually supplied:
Soil pipe to connect toilet to soakaway
Vent pipe
Building - although some customers have bought a full access building from us for this toilet and have created their own foundations and floor.
Please view prices and examples.

PLEASE CALL US ON 01686 412653 OR USE THE EMAIL FORM ON THE CONTACT PAGE FOR MORE INFORMATION. THANKS!