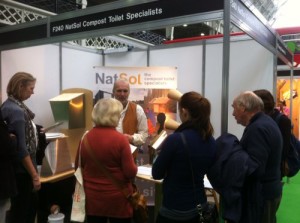 NatSol took a stand at the Farm Business Innovation Show in Olympia, London and were overwhelmed by the interest in our products, particularly by those looking for a high quality toilet solution for glamping sites and rural retreats.
We generally prefer designing and making stuff to selling it and Nick had argued against us doing the show. Indeed we both had modest expectations but decided to try it. In the end we were more or less besieged by enquirers for two days. Many people had already researched the subject in depth and came prepared with intelligent questions. To our surprise no one seemed to turn their nose up at the idea of a compost toilet and a number of people said they had seen our loos in use and were amazed by the lack of smell. Only one delegate said she thought toilets were boring and I'm not sure that we managed to convince her otherwise!
Compact compost toilet ideal for shepherd's huts and tree houses
Of particular interest was the new Compact toilet with stainless steel pedestal. Delegates quickly recognised its potential to provide an odour free loo for shepherd's huts, safari tents, tree-houses and other types of high quality 'glamping' accommodation. One fellow exhibitor, ECHO, a maker of very crisply designed and finely crafted off grid buildings described the new pedestal as 'a beautiful object' and saw it as the ideal solution for a current project on Crete.
We also had a a lot of interest in our full access toilets for campsites, riding stables, fishing lakes, allotments, churches and other off-mains locations.
Although we had no time to see any of the seminars, a string of people asked us if we had paid Alastair Sawday to promote our compost toilets as he had waxed lyrical about us in his seminar and sent people to our stand! We were able to thank him later and will hopefully work together at some point.
Overall we found the show to be a very worthwhile experience with lots of pleasant surprises.