We now supply a stainless steel soak box styled to match the pedestal.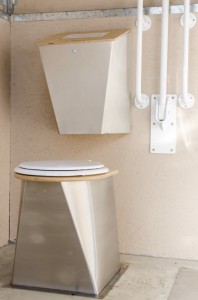 The soak box holds wood shavings, or similar material, to put down the toilet after 'number twos'! The style matches the pedestal and has a matching top in black or clear lacquered FSC Certified birch ply.
The soakbox is supplied as standard with out full access toilets and is available as an optional extra with the compact.
The lid has a neatly retractable hasp to allow it to be locked in more public situations where it is preferable for maintenance staff to control the addition of soak material.