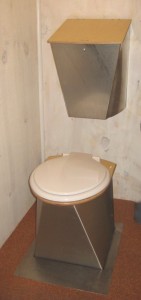 The new Compact dry toilet with stainless steel pedestal is becoming popular for shepherd's huts, garden studios and other low use situations. The one shown here is installed at our main offices and is used by staff thereby reducing our water use and enabling some recycling of organic material. Odour free and having a silent flush it is regularly used in preference to the flush toilets.
The Compact compost toilet uses the same high quality urine separating pedestal as our full access models. This solves the usual problem of smaller waterless toilets being flooded if usage is particularly high due to visitors such as during a party.
For full details of the product go to: Compact Product page
We are always happy to discuss your requirements without obligation. Please call us on 01686 412653.