Customers can design and build their own buildings to fit with our Full Access toilet components. We provide guidance.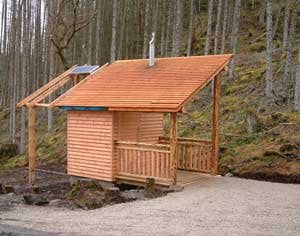 We offer a full kit of components for customers wishing to construct their own toilet building. The twin-vault chamber and lid serves as the foundations and floor of the building.
There are sections below where you can link to downloads including chamber drawings and Sketchup models to help you design your own building.
At the bottom of the page there is a link to bespoke buildings supplied by NatSol.
Our compost toilet kit includes:
Twin vault chamber
Stainless steel pedestal and lid
Vent pipe and cowl
Ceramic waterless urinal
Grab rails for wheelchair users
Pipes and soakaway components.
All specialist components including soak bin, antiseptic hand gel dispensers etc
Everything except the walls, door and roof.
After many years of designing and building one-off DIY waterless toilets we are aware of the many details that need to be got 'just right' for a compost toilet to operate without problems. Our toilet components kit means that all the critical details of the actual compost toilet are sorted. You just need to provide the building to suit your needs.
See further examples of Customer designed and constructed buildings.
Drawings and Sketchup model to download
For dimensions and relevant drawings please see Other building options in the technical downloads section. If you are familiar with the free Trimble Sketchup application then you can download the base model as a starting point for your design.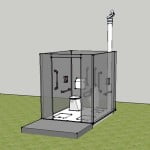 Bespoke buildings by NatSol
We now have two other building types available which can be tailored to meet your needs. Both are in timber. One has a double pitched roof and the other is a lean to building. We may also be able to assist in designing and supplying something else that suits your needs. For examples go to Bespoke.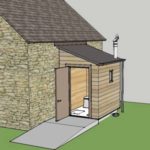 PLEASE CALL US ON 01686 412653 OR USE THE EMAIL FORM ON THE CONTACT PAGE FOR MORE INFORMATION. THANKS!