The full access compost toilet with a timber building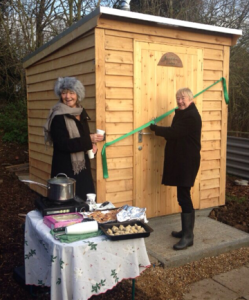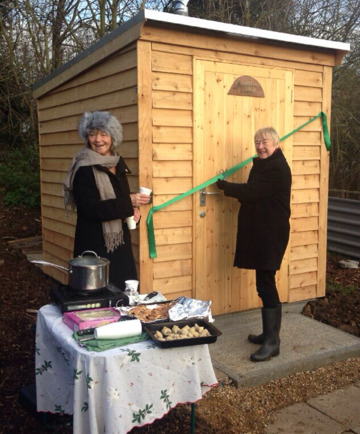 Our standard timber building shown here on an allotment site where a celebration was taking place following its installation.
It is clad with Western Red Cedar sourced in Wales by a company that has Forest Stewardship Council certification and has a traditional corrugated roof. This building blends in well on such sites and has been installed on many other sites as well. It is of strong construction and complies with wheelchair accessibility. A skylight provides light. If you need a more vandal resistant building go to Full Access Metal.
Supplied:
Twin vault chamber
Stainless steel pedestal, seat and lid
Vent pipe and cowl
Ceramic waterless urinal
Grab rails
Pipes and soakaway components.
All specialist components including soak bin, antiseptic hand gel dispensers etc
Timber building complete with guttering, downpipe and rain diverter
Please view prices and further examples
Please call us on 01686 412653 or use the email form on the contact page for more information. Thanks!