NatSol composting toilets are ideally suited to a wide range of applications from garden offices and studios to campsites and busy allotments. We manufacture several different types of waterless toilet and supply them for remote islands, nature reserves, forestry sites, churches or any site without mains services.
Full Access Composter
Roll over the image to view features:-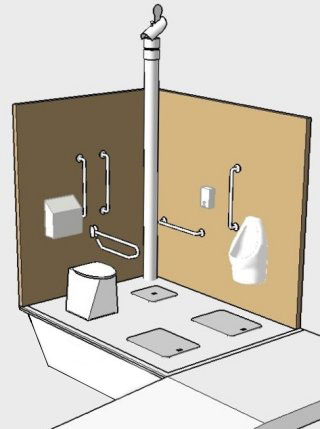 Features
Easy clean, anti-fouling, urine diverting stainless steel pedestal.
Passive ventilation stack and wind cowl for odour free operation.
Generous twin chambers to allow good in-situ decomposition.
Full wheelchair accessibility (review as pdf).
Antiseptic hand-gel dispensers.
Ceramic waterless urinal with no consumables.
Compost chamber forming floor and foundations for building.
How does it work?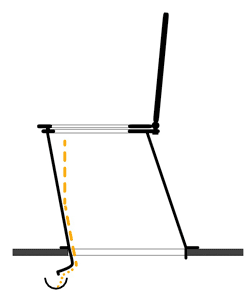 The compost chamber usually extends 800mm below ground. It is divided into two sections used alternately on an annual cycle so that when compost is removed it is at least one year old and nicely decomposed. Urine is diverted and sent to a soakaway – rather than relying on evaporation, a method better suited to warmer climates. Click here for more details which help explain why we are the UK market leaders.
Building options
The Full Access dry toilet is available with a timber or metal building. We can also provide bespoke buildings or all the components to integrate into your own design. Please select a building type on the right of the page for more information.
The Compact Toilet
For low use applications we have developed the Compact. This uses the same high quality stainless steel urine diverting pedestal as the Full Access but has a receptacle for solids which are removed and composted separate from the toilet. More information here.
A New System
For very busy public sites we have recently developed a new waterless toilet system which was first installed at Richmond Park in London.
Prices
For price guidance go to our prices page