This is the interior of a Zero Discharge Type 2 (ZD2) stand alone toilet.
It creates a fully accessible cubicle and can be supplied with the same range of NatSol buildings as the Full Access Composter (FAC) – or you can build your own. From the outside the toilet will therefore look almost identical to the FAC except that we supply a taller vent pipe for the ZD2.
There is no urine separation and therefore no urine soakaway. The pedestal has a different shape and is topped with a Corian seat. The inside surface is Teflon coated.
We supply a male urinal, a gel dispenser and grab rails.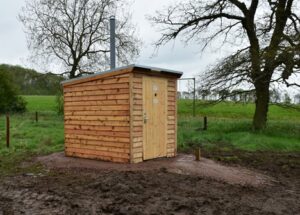 Emptying of the toilet is carried out by slurry tanker and access into the tank below the floor is by removal of the pedestal.
On the right is one of our timber full access buildings housing a ZD2 toilet.
For prices go to our prices page